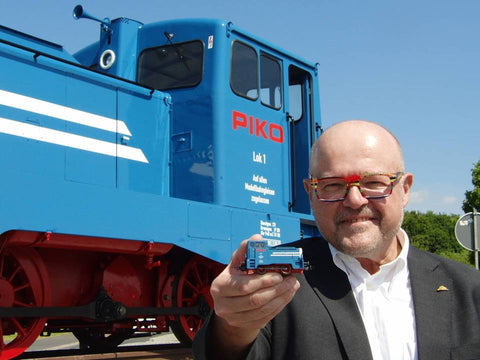 On June 2nd, 2017, PIKO Lok 1 – a small type V 23 diesel switcher locomotive – was lifted by cranes and placed in the center of a traffic circle (Kreisel) on the road leading to the PIKO factory in Sonneberg, Germany. The locomotive is part of a celebration of what PIKO means to the city and region where the PIKO company headquarters and large factory complex are located. 
The event was in planning stages for quite a while and had numerous parties involved.  Dr. Voigt (Mayor of Sonneberg), Dr. Wilfer (Owner & CEO of PIKO), artist Wolfgang Otterpohl, as well as numerous others worked to cosmetically restore, ready and move the locomotive, as well as prepare the city intersection now titled "PIKO Circle".  The event marked the 67th year of business for PIKO and the 25th anniversary of the Wilfer family ownership of the "new" PIKO Spielwaren GmbH.  The idea was first brought to Dr. Wilfer by Bernd Pöschl, product development manager for the PIKO G-Scale train category and the coordinator of many of the steps to bring the loco to its new home.
The full-sized locomotive was manufactured in 1972 by the locomotive manufacturer LKM in Potsdam-Babelsberg and has the serial number 262-404. The loco was used as a shunter in Gotha, usually handling grain cars.  The loco was later owned into the late 1990s by Heyl-Mühlen GmbH & Co. KG in Bad Langensalza, after which it went to the IG Hirzberg Railway, which performed the extensive restoration work on the loco in the past year, prior to it's movement.
With a weight of over 14 tons and a length of about 23 feet, the locomotive was a challenge to transfer from Gotha to Sonneberg.  Henneberger Heavy Transport performed the move, while Hartsteinwerk Hüttengrund, Erfurt Track Construction and the Thüringer Railway handled ballast and track construction.  It was truly a group effort. 

In the ceremony dedicating the new "PIKO Circle", the town citizens and city officials felt it was important to remember Sybille Abel, the late mayor of Sonneberg and a great longtime supporter of PIKO, as well as honoring PIKO, which has provided so much to the region over the decades.  The loco now stands ready to be enjoyed by thousands of PIKO fans during the upcoming Open House Day, June 17th 2017 at the PIKO factory, and doubtless thousands more in the coming years.
The model version of the PIKO "Kreisel-Lok" traffic circle locomotive is available in HO- and TT-Scales and can be enjoyed by train fans and hobbyists worldwide.